Our February Challenge was to pick the item that gave the best first impression of our members' shops.
As expected, we had several wonderful entries and
here is our lovely treasury.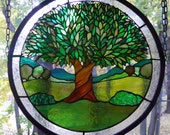 Several different items were voted on. The one with by far the most was
this lovely stained glass panel
from Shirl.
If it looks familiar, it is. It was also featured in our blogspot on our member of the month for February!
We really love Shirl's items!
Once again, thanks to all who entered and commented and voted. Couldn't do it without you!
Stop by next month to see our March treasury: "Glitz and Glamor"
We should get some gorgeous entries for this one! One voter per seller.... anyone can vote.
See you all there.
Posted by Linda of JustOneLook for EtsyExpats