Well here we are at the start of another month and time for a new M.o.M.
Who will it be this time?
Monique and her helper, Ryan, put all the names in that beautiful bowl and once again, stirred and stirred and stirred.
Check out
our team FB page
to see the photos. (Monique uses one of her gorgeous creations) and her son has fun helping.

Then ..... the name was chosen...................................................................Hayley! Yay!!
Hayley is our team founder and has two fabulous Etsy shops
.... selling not only her wonderful French vintage finds but also her unique & artistic paintings. A very talented lady indeed.
We will be featuring her shops in our treasuries this month, posting items on her very own Pinterest board and generally spoiling her as much as we can. :)
Please check back to see what progress we are making.. we will be adding items along the way
.

Hayley is from South Aftica and loves to paint from her heart... this painting shows her talent.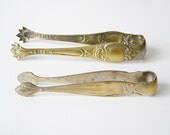 Jan, our member of the month last month,
found these
cubed sugar tongs
and chose them to feature:..she is also a collector of vintage.
One of my personal favourites
is this corkscrew
made from hardened grape vine.
Julie chose this fabulous collection; in fact it is one of Hayley's personal favourites too!
Delightful! Is how Shirl described this vintage collar.
Yes, absolutely lovely!
>>>>>>>>>>>>>>>>>>>>>>>>>>>>>>>>>>>>>>>>>>>>>>>>>>>>>>>>>>>>>>>>
Hayley

grew up in South Africa and has sent us a recipe... one she remembers enjoying particularly on school days.
South African RUSKS
They're perfect for dipping in tea or coffee and are a great healthy-ish afternoon snack. They keep well if you store them in an airtight container.
Ingredients :
* 6 cups white flour
* 2 cups whole wheat flour
* 7 tsp baking powder
* 2 tsp salt
* 2 cups sugar
* 1 cup sunflower seeds
* 3 cups all bran flakes
* 1 cup chopped pecan nuts (optional)
* 500 ml buttermilk or plain yoghurt
* 250 ml oil
* 300 g butter
* 3 free-range eggs
Mix all the dry ingredients together, and melt the butter and allow to cool. Beat the eggs.
Mix the wet and dry ingredients together to make a dough. Divide the dough in half and flatten in two roasting pans that have been lined with tinfoil and greased. Cut the dough into rusk-sized shapes before placing the tins inside the oven to cook for 1 hour at 160 C.
Once cooked, the rusks need to be lifted and placed upright in the roasting pan and returned to the oven at 100 C for a further 2 hours. Turn off the oven and leave the rusks in there overnight so that they are able to dry out well.
<<<<<<<<<<<<<<<<<<<<<<<<<<<<<<<<<<<<<<<<<<<<<<<<<<<<<<<<<<<<<<<<
Sally noticed this unusual item:
Looks like a vintage key but is actually a corkscrew/bottle opener!
What a fabulous find!!
Keep up the good work Hayley, bringing us all these wonderful items.
I'm sure the team will find plenty more to share with us so don't forget to check back ............................ later.
Posted by Linda of JustOneLook for Etsy Expats