Well October came and went and I didn't announce the new member of the month!
Well it was me!
Yes, my name was pulled from the bowl. Thanks to Monique and her helper.
What a wonderful month it has been. My favourite time of year. My birthday month too.
~~~~~~~~~~~~~~~~~~~~~~~~~~~
I am Linda and I have two Etsy shops.
~~~~~~~~~~~~~~~~~~~~~~~~~~~
Just One Look
where I have some of my handmade retro clothing, a few vintage items, supplies and recycled items from left over fabric pieces or upcycled materials such as denim.
~~~~~~~~~~~~~~~~~~~~~~~~~~~~
My other shop is
Sew Fine Fashions
where I offer my handmade accessories like jewelry pouches, stock ties, shrugs and snoods and also ring pillows.
I hope to be adding more variety to both my shops in the coming year.
Grey spotted bag
with a choice of ribbon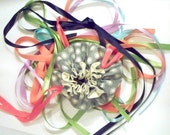 My fellow team members have featured so many of my items in treasuries and on the team this month. I am sharing a few of my favourites.
Thank you team for adding more happiness to what was already a great month.
.
.