Hello again.
Here is our winner for the June Team Challenge.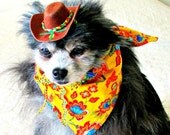 Our Winner!
We had plenty of interesting and varied items to add to this
treasury
. All unique and individual.
A really good mix and difficult to choose just one.
Our favourite and I'm sure you can see why, is Dom wearing one of Sally's cowboy/girl outfits.
Sally of
BloomingtailsDogDuds
makes all kinds of cute doggie outfits and Dom the Pom is her adorable model:)
We are doing something a little different for our next team treasury...
Don't forget to check in next month !
Are you an expat?
Come join in the fun and chat @
Posted by Linda of JustOneLook for Etsy Expats