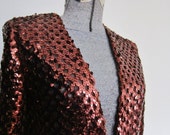 Our monthly challenge treasury for March was full of pretty, bright, sparkly items.
So many lovely choices. .. diamonds, sequins, glitter..... even an organza dog's party dress:) (
Well done Sally for stepping up to the challenge and creating a new item)
.
This glamorous copper sequin jacket from
Jan of boutiquefantastique was a big hit and won the most votes. Sure to liven up any outfit!
Thanks to all of you for coming by and commenting and voting. Be sure to stop in next month for our challenge.... "Spinning A Yarn"
See you all there!
posted by Linda of JustOneLook for EtsyExpats