Our pot was stirred and stirred and stirred.....
and stirred .... and stirred.......
Monique's son gave a helping hand and made sure the names were mixed well. You can see the photos here on our FB page.
The winner was finally chosen.......
Yay!!!!
it's Jan .... who has three lovely Etsy shops to visit.

fabriquefantastique
foulardfantastique

boutiquefantastique
Visit and follow Jan on her
blog.
Jan always has something interesting to follow, whether it's travelling to a far off land or visiting the local thrift shops, showing us her fabulous finds.
Stop by our FB page to see the photos of Ryan stirring and choosing a name... and let us know you like us.
Leave a comment here and give Jan some love.
Best of all, come join us. We are a chatty group who support each other and have fun doing so. Click on the j
oin the team button on our
home page.
Back later with more information for you to check out about our new MOM :) Off to forage through her shops to see what I can bring you.............
I found this fabulous vintage quilt in fabriquefantastique: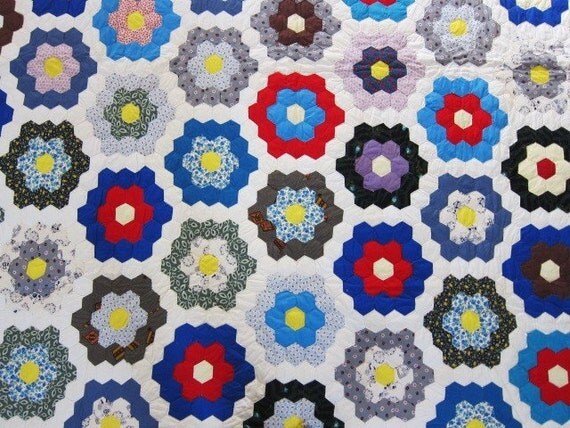 Amazing condition for such an old quilt.
a wonderful 1940's wedding gown at boutiquefantastique
antique satin gown
and in foulardfantastique this lovely item: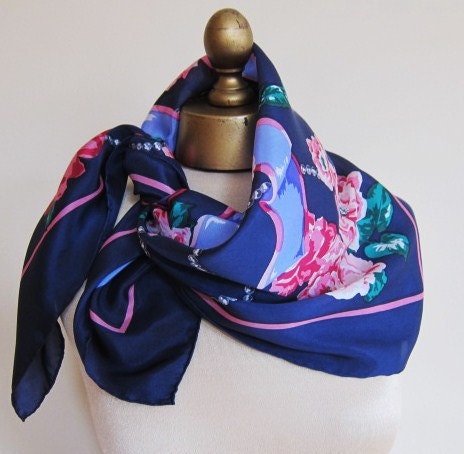 Bill Blass vintage silk scarf
It's so hard to pick just one scarf from Jan's amazing collection. I will have to bring you some more next visit!!

***************************************
Jan's birthday this month too and Julie of Dorsbien made her a fabulous treasury:)
***************************************
As promised here are a couple more of Jan's lovely scarves. These were chosen by team members for their treasuries this month:
AtelierJen chose this pretty scarf.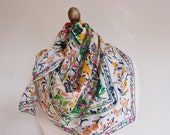 This one from Joanne of CoconutPalmDesigns
Julie picked this gorgeous colour scarf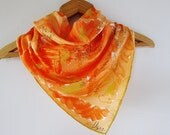 and there were so many more .. we could just keep going so you really need to go visit for yourself.. foulardfantastique. Enjoy your visit!!
*Jan originally comes from the UK and now lives in Toronto, Canada.
She is sharing a couple of her favourite recipes with us:
I am not a 'recipe' person any more having cooked for so long I barely measure anything (cept for cakes and jams)
Easy to throw together anywhere in the world....feel free to try any root veg or any spice or any onion...this is only a starting point
easy peasy
Carrot and poppy seed salad.
4 large carrots
2 teaspoons poppy seeds
2 spring onions
oil/lemon juice dressing of your choice
Peel carrots with peeler. Continue to peel carrots down the length of the carrot to form thin ribbons.
Put poppy seeds in heavy saucepan and dry roast for a few minutes, leave to cool.
Mix carrot ribbons, onions and dressing, sprinkle with poppy seeds.....serve.
From my DIL ....again, feel free to use any fruit or nuts.
Pear and arugula salad.
3 ripe pears, peeled chopped or sliced
4 or 5 large handfuls of arugula or watercress
large handful walnut pieces
4 oz approx blue cheese of your choice. crumbled
sprinkle pears with lemon juice
roast/ brown walnuts in oven....cool
mix all together at last moment turning gently with your hands
drizzle with olive oil or oil of your choice.
No other seasoning is required as the lemon juice is in the pears and there is plenty of salt in the blue cheese.
Thanks Jan. These sound delicious!
~~~~~~~~~~~~~~~~~~~~~~~~~~~~~~~~~~~~~~~~~~~~`
Finally before we bid our fantastic member of the month farewell, here is a treasury in her honour.
We had fun Jan... hope you did too!!!
Post by Linda (JustOneLook) for Etsy Expats