HOLIDAY DECORATIONS & FESTIVITIES
South Florida USA
The climate I grew up in and think of as Christmastime comes around is very different from where I am now.
Christmas was a time when we bundled up in layers of warm clothes to go shopping. I have memories of waiting at bus stops with friends or family waiting to get home and put on the kettle, sit by the fire and let fingers come back to life.
Celebrating Christmas here in South Florida is sometimes a little chilly but more often than not, it is hot and sunny and not at all typical of the way I remember Christmas growing up in England.
I really don't miss the cold... just at Holiday time.
Other than the temperature, things are pretty much the same as the rest of the US.
Some people have real trees, trucked in from tree farms in the northern states and people decorate their houses and yards with lights.. some to the extreme. All very festive.
Last week the Christmas tree was lit downtown... this year a 35 foot high sand sculpture tree covered in lights! Different and fun.
Sand Sculpture Tree with Changing Color Lights
Although I miss the way I have always thought of Christmas, I do love seeing the palm trees decorated with lights accentuating the palm branches... usually white twisted up the trunk and green or white along the drooping palm fronds. So exotic and tropical, especially on a balmy evening with an ocean breeze rustling the fronds.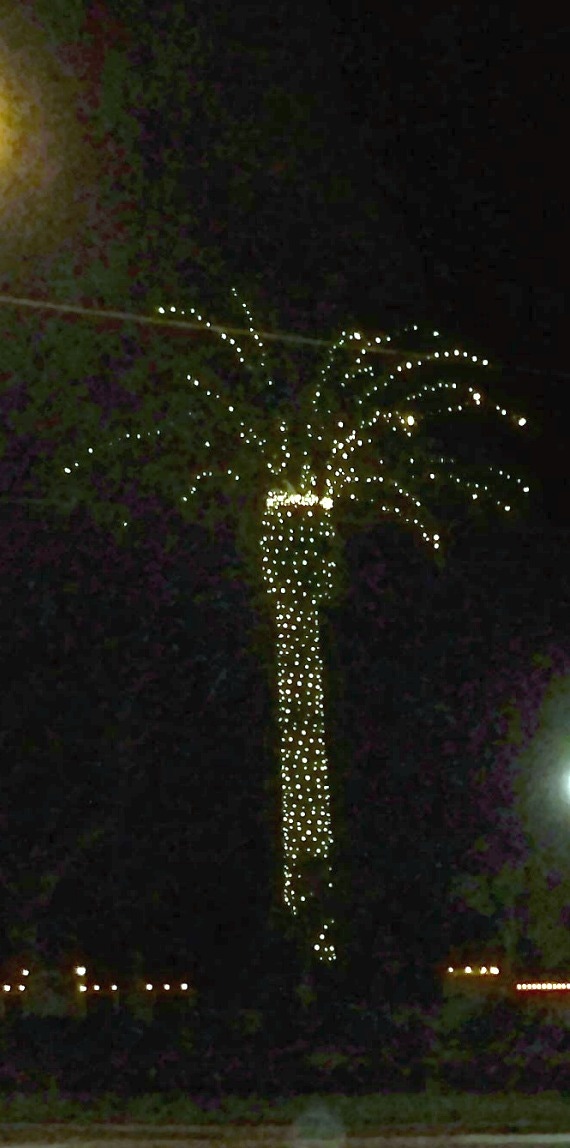 Decorated Palm Tree
There is also an annual boat parade of boats of all sizes, from small skiffs to large impressive motor yachts all decorated and playing music, some with people dancing as they travel up the waterway, collecting Toys for Tots along the way.
The bridges close to traffic and open for the boats. You have to decide before the bridge closes which side you want to be on... the beach side or the town side then people line the streets to enjoy the sights. Some along the banks down by the water and some above them on the bridges. Everyone waving and having a good time.
One of the many boats in the parade
Definitely a totally different type of Christmas but a festive and happy atmosphere.
submitted by Linda of
JustOneLook
/
SewFineFashions
boat photo courtesy of palmbeachpost.com
sand sculpture courtesy of southflorida.com