Our team challenge was the first Monday in May..... May 6th.
Hope you managed to come by and vote !
We had so many entries this month that we had to have a second treasury. Not enough to fill two but it was fun finding items that fit the bill and what a great showing we had!
Treasury Part One can be seen
here
and Part Two you can view
here
.
So many choices and finally the votes were tallied and we had a tie!
Tailorbirds'
umbrella and raindrops cushion was a huge success as was
atelier28's
etching.
Rhiannon's lovely pillow was so appropriate.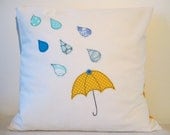 Congratulations both of you Rhiannon and Andrea!...
April showers brought out quite a variety.... including these two items too.
Karen's
bridal wrap
was popular as were Katrin's
pretty painted sandals
. Another fun, diverse challenge.
Hope you all manage to come by next month for our May challenge.... "Going In Circles" ..... we are already off to a good start with several entries and it's only week one!!
See you then.......
Posted by Linda of JustOneLook for Etsy Expats